About Us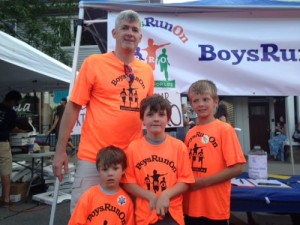 Mission Statement
The Mission of Boys Run On is to provide a Health, Wellness, Skills Development and Environmental Awareness program providing the Tools, the Head and the Heart to make Our Boys Successful in Life.
This program is NOT just for athletes.  It's also set up for those boys who may never play a sport in their lives to help show them doing healthy things can be fun and provide the tools to carry them through life successfully.
When: September 20th – November 18th
Time: Tuesdays and Fridays right after school:  3:15 – 5:00
Where: Ellicott, S. Davis and Windom
Finale: Exclusive BRO 5k Run November 20th
Cost: $150.  Scholarships are available for part or all of the cost to those that qualify.